Brady Beginnings
Zaynah joined Brady Solicitors in April 2021 while still studying for her Legal Practice Course (LPC) at Nottingham Law School. Her Brady journey began as a part time paralegal in the service charge team, which gave her a swift introduction into fast paced litigation recovering service charges arrears.
While juggling her exams on the side Zaynah quickly became an expert in the case management system and service charge processes and legislation. She had to be organised and ensure her days were structured to deliver targets and manage her task list. Fairly early on it was clear she is a natural time management wizard which is crucial in becoming an effective and skilled litigator
Zaynah was promoted from a paralegal to trainee solicitor in November 2021 where she joined the litigation team dealing with a variety of leasehold disputes for managing agent and RMC clients.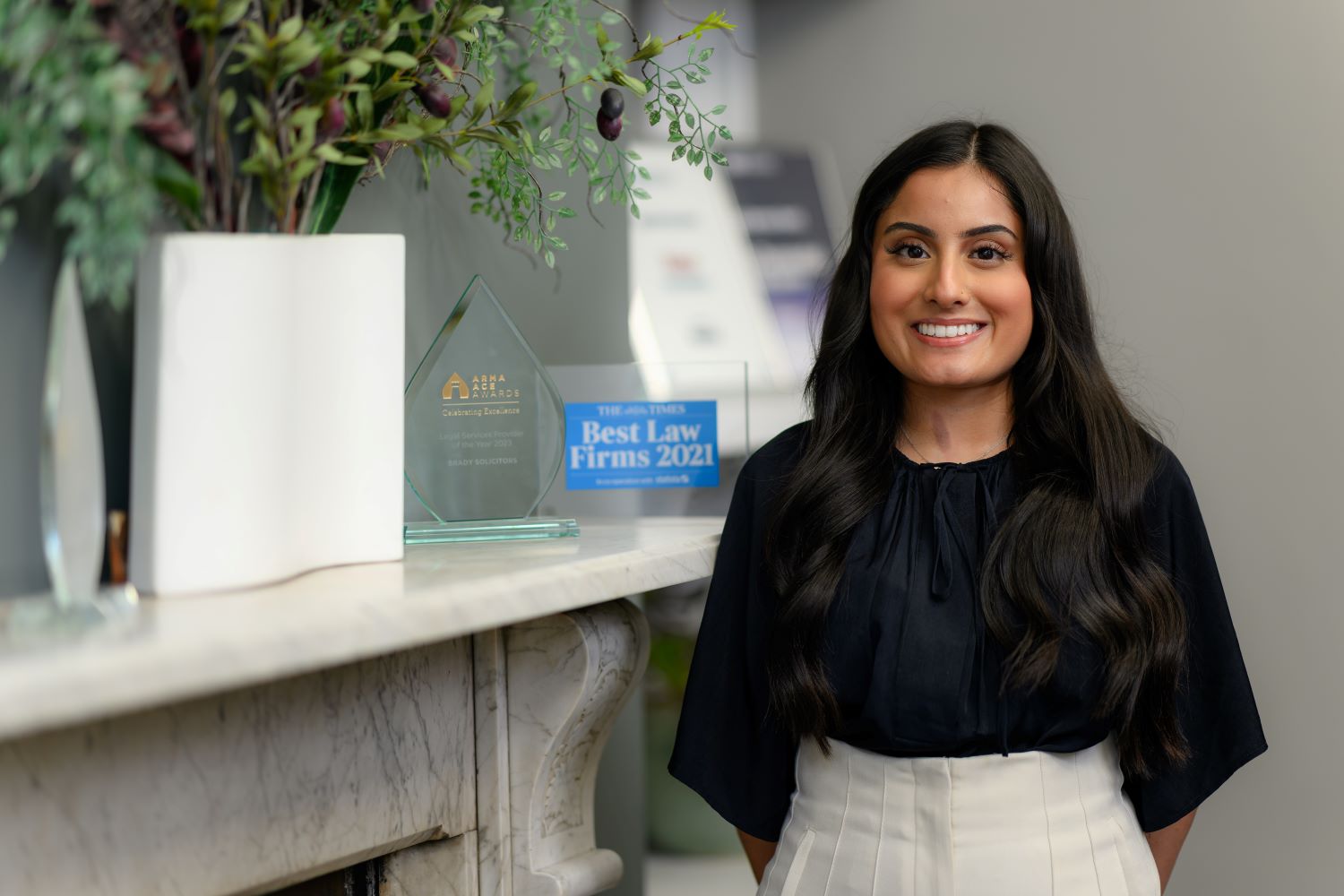 What does your role look like now?
As a trainee Zaynah was quickly running her own case load with support and supervision from associate director Jeremy Weaver. Through a series of weekly team meetings, daily chats and Jeremy's guiding hand Zaynah developed a swift grounding in leasehold litigation.
Firmly on a steep but supported learning curve, Zaynah has dealt with cases around lease breaches, service charge disputes and detailed advice around business critical lease interpretation for clients. She needed to utilise her growing communication and drafting skills as was now much more client facing. In addition to her own caseload, Zaynah supported on a complex commercial service charge dispute on a large mixed-use estate at Canary Wharf.
Keen to develop her experience of the court process Zaynah moved to the defences and dispute resolution (DDR) team dealing with defended service charge litigation.
For the last few months Zaynah has been managing the daily challenge of hearing dates, deadlines and navigating civil procedure rules.  This requires excellent diary management and the support of her friendly and approachable supervisor and department head Kalpesh Patel.
Zaynah recounts how working in the DDR Team has really helped her understand the clients aims and what they are looking to achieve, "As I manage my own case load and deal with multiple files for often the same clients, I have been able to build strong and more trusted relationships with them. I feel much more of a partner to their business and understand their challenges better".
Brady Backing
As part of the Bradys trainee structure Zaynah has completed substantial external training on fixed costs regimes, the new multi track claims process and enjoyed a training session with a top leasehold barrister on forfeiture.
On completion of the funded PSC course Zaynah will have developed and honed her skills in client management and advocacy in preparation for moving to qualification as a solicitor.
Zaynah says the bulk of support comes from her supervisor who is supporting her gain more exposure to FTT litigation and negotiation techniques.
What would you say it's like working at Bradys?
I would say Bradys is friendly, fun and a fast growth work place. Even in the 2 years I have been here I've seen some substantial changes as the firm moves forwards. It is exciting to play a part in that and I feel very supported. I feel through running my cases I have gained so much hands-on experience quickly. Whilst at times it has felt a little daunting, I have never been on my own and have had strong and quickly accessible support from both my supervisors.
Being a trainee at Bradys creates the kind of skills I need to be a strong litigator. I don't think it will feel like a big leap when I qualify, as I feel I have many of the skills and much of the experience already through the trainee program.
I also like the mix of working from home and in the office. Some days I just get my head down without distraction and other days I catch up with my colleagues in the city centre. It is handy to be in the city centre to nip to the shops on lunch breaks to keep my shoe collection fully stocked as well!