Award-winning property management law firm, Brady Solicitors, has made three key appointments to its senior management team as part of the next phase of its strategic growth plans.
The firm has recruited Rachel Thompson (centre) as Head of Talent and HR, Adam Hollis (right) as Head of Litigation and Brad Clarke (left) as Head of Sales, who will all be based at its Nottingham offices.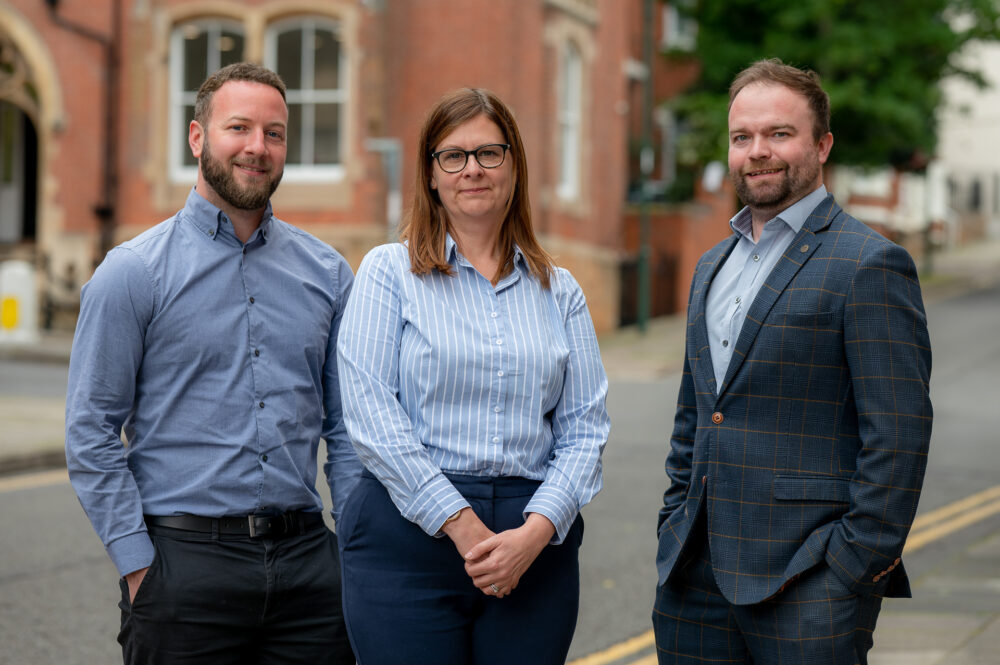 Rachel Thompson joins Brady Solicitors in a new role as Head of Talent and HR, where she is responsible for developing the company's employer value proposition (EVP) and leading the recruitment drive. Rachel previously worked for Nottingham Trent University as Talent Acquisition Lead, where she established and led a resourcing and talent acquisition shared services team and ensured an efficient, effective and stakeholder-centric service.
Rachel says:
"The war for talent is particularly aggressive in the professional services, and it is becoming increasingly difficult for firms to retain good people on their teams. As Head of Talent and HR, it is my job to challenge the status quo, analyse where there are barriers to the profession, and to utilise my understanding and experience of talent to help make Brady Solicitors think differently. I have already implemented a successful trainee assessment programme since joining and have lots of plans in the pipeline to help the firm continue its journey to becoming the employer of choice for top legal candidates."
Adam Hollis joins Brady Solicitors from Taylor & Emmet, where as Head of Property Litigation, he handled a full range of commercial and residential property disputes. A strong manager, with in depth sector expertise, Adam's deep understanding of both leasehold law and commercial property matters means he is well equipped to handle a broad spread of property related disputes, from service charge matters through to complex mixed-use cases.
Adam says:
"With the firm embarking on its phase of growth, now is an exciting time to be joining Brady Solicitors. As Head of Litigation, I am relishing mentoring our next generation of trainees and supporting them throughout their career journeys to learn, develop and fulfil their potential."
Expert sales leader Brad Clarke joins Brady Solicitors from Inflo, a financial data analytics software company, where he was Global Head of Sales. With extensive experience in managing B2B relationships and a wide range of commercial expertise, Brad's role involves overseeing client retention, growth, and new instructions across the firm and ensuring an exemplary client experience.
Brad says:
"I am thrilled to have joined Brady Solicitors as Head of Sales. This is also a brand-new role for the firm, and I am enjoying putting my strong client management expertise to good use and really making the role my own. Brady Solicitors is a supportive and hands-on law firm with an exceptional legal reputation in its sector. I hope to play a key role in its continued growth and success."
Clare Brady, managing director, adds:
"We are thrilled to welcome Rachel, Adam, and Brad to the team; their appointments represent significant additions to the firm and are a part of our wider five-year development strategy. Our reputation within the property management sector means we are enjoying continued strong growth but, with this growth, comes the challenge of building a top-rate, experienced senior team. I am delighted that these three talented and ambitious people have joined us and it's fantastic to see them already making a big impact at the firm."