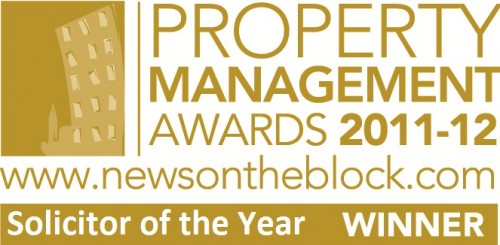 Legal property management specialists Brady Solicitors' success on behalf of its clients was recognised with the Solicitors of the Year award in the national Property Management Awards at Lords cricket ground on Monday 05 December 2011.
Brady Solicitors held off strong competition in the hard-fought legal category, with the judges commending the firm for its '…outstanding growth, focus on customer service and excellent and effective systems.
Collecting the award in front of 450 invited guests, Managing Director Clare Brady commented:'This award is fantastic recognition for the whole team at Brady Solicitors. We have grown three-fold over the past 18 months and have worked very hard to put in place the people, processes and systems that make our clients' lives easier. We are committed to becoming the number one firm for legal property management work and winning Solicitors of the Year is a tremendous boost to these ambitions.
'For many property management companies, collecting service charge arrears can be an expensive and time-consuming headache. Because Brady Solicitors specialises solely in the property sector we are able to focus all of our attention on quickly and cost-effectively recovering these arrears for our clients.'
Finalists for the award included Brethertons LLP, SLC Solicitors, JB Leitch, Piper Smith Watton LLP and AJ Preston Solicitors. The Property Management Awards are organised by News on the Block and aim to recognise and celebrate excellence in the property management industry. The independent judging panel comprised of Georgiana Hibberd of the Royal Institute of Chartered Surveyors, Bob Smytherman of the Federation of Private Residents Associations and Ian Fletcher of the British Property Federation.